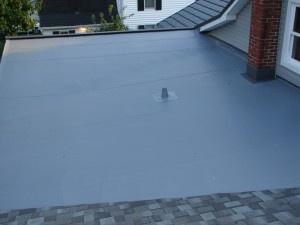 Imperial Armour is committed to providing homeowners with exceptional service and outstanding flat roof products in Wisconsin. When you get an Imperial Armour flat metal roof in Northern Wisconsin or the UP through American Metal Roofs, you get the very best—the highest quality, authorized installers, and a lifetime warranty. Period. It's that simple.
A white Imperial Armour membrane can reduce your energy consumption and your rising electric bills. By reflecting up to 90% of the heat that normally enters a home through the roof, an Imperial Armour roof will lower your home's heat gain, and it might very well pay for itself.
Imperial Armour flat roof products in Northern Wisconsin and the UP are designed to go on quickly, efficiently, and with precise accessories for vents, skylights, and more. In fact, Imperial Armour can waterproof whatever roofing or decking surface you have, from surfaces around hot tubs to roof top gardens.
You don't have to do anything to keep an Imperial Armour roof clean. It comes with an acrylic finish to keep dirt from bonding to your roof, which keeps you from doing a whole lot of trivial maintenance.
Imperial Armour and its manufacturer are so confident in this roof system, that they back it with a lifetime warranty—the best in the industry. Imperial Armour will keep you covered better than anyone out there. That's our guarantee.
Choosing an Imperial Armour roof will ensure that you will have the longest lasting roof on your home, reducing emissions and landfill waste. Because an Imperial Armour roof will last two or three times longer than other roofing alternatives, Imperial Armour is clearly the most economical and sustainable choice you've got.
Imperial Armour Traditions Classic
Traditions Classic is a single ply membrane that was designed to eliminate the problems associated with conventional asphalt shingles, but give you the look of an architecturally designed shingle roof that fits your home or building.
Traditions Classic carries a Lifetime Material Warranty for residential projects and up to a 15-year warranty for commercial projects. Traditions is also fade resistant and is suitable for all climates. It outperforms any shingle roof from any manufacturer.
This is how the system is designed: Traditions Classic waterproofing system is made from a composite layer of durable PVC membrane. It is a reinforced colored single-ply with a printed architectural styled shingle pattern on top, giving you the shingle look you want but without the problems of wind driven rain, strong winds, or damage from severe UV-rays. The elements that cause the asphalt shingles to fail prematurely do not affect the waterproofing characteristics, or the performance of the Traditions Classic system.
The installation of Traditions Classic is simple, clean, fast and quiet. Most
residential installations
are completed in just one day. The membrane is mechanically fastened to the roof with screws and plates, allowing for the highest level of protection against strong coastal winds. Then the seams are hot air welded making a one-piece blanket of protection over your entire roof. All of the flashings are pre-manufactured to make your roof look good and to minimize installer error around difficult details.
A Good Roof Is One You Can Forget and Traditions Classic is no different. Traditions Classic is virtually maintenance free and is specially designed for low-sloped roofs. The high-quality membrane resists mold, mildew, algae, chemicals, and ultraviolet rays, and your flat roof product in Northern Wisconsin or the UP will look great for years to come.
Advantages
Lifetime Warranty
Energy Efficient
Wind Resistant
Easy and inexpensive to install
"Energy Star" Listed
Improves the appearance of your home or building
Quiet
Restaurant
Imperial Armour's ChemGuard Roof Systems has made a commitment to set the standard for the restaurant roofing market. Your roof will last longer and perform better than any other single-ply membrane. Why? Because ChemGuard is a roof system specifically designed for restaurants that offers:
The only true grease and oil resistant roofing membrane
Maintenance free warranted roof for 25 years - guaranteed
Eliminates lost revenues due to unexpected roof leaks and repairs
Commercial Imperial Armour Roofs
IB has designed and fabricated an entire roof system that will go on quickly, efficiently, and with precise accessories: fan units, curbs, scuppers, drains, vents, skylights, HVAC units...and more. In fact, Imperial Armour provides all of the flashings prefabricated—in standard or custom sizing—to ensure the highest quality installation on your commercial building.
The trivial task of cleaning is not as necessary with an Imperial Armour commercial standing seam flat roof in Northern Wisconsin or the UP. Imperial Armour membranes come with an acrylic finish that keeps dirt from bonding to the roof surface, while aiding in the weldability of the membrane, making it easier to keep your roof looking great and watertight.
As a matter of fact, Imperial Armour has so much confidence in this roof system, that we back it with up to a 25-year, non-prorated warranty—the best in the industry. Imperial Armour will keep you covered better than anyone out there. That's our guarantee.
---
Imperial Armour Flat Roofs Photo Gallery
Click on an image below to enlarge it.